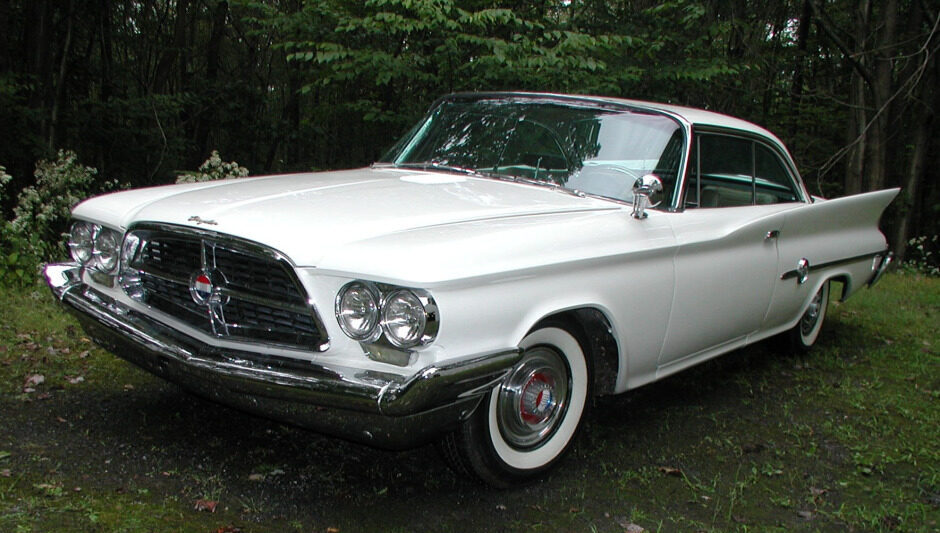 Through my teenage years, there was no date I anticipated more than October 1965. It wasn't a birthday, but the day I'd become eligible for an Arizona driver's learning permit. I started shopping for cars months in advance, and I wanted a unique car that nobody else at school would have.
A few weeks before the magic date, I spotted a Chrysler 300F, incongruously parked in a British sports car dealer's used lot. I knew this model, a limited production series Chrysler had been building with the goal of winning some races. With a 413 cubic inch V-8, long "cross-ram" intake manifolds that gave a supercharging effect, and dual 4-barrel carburetors, it had won the Daytona speed record in 1960. Inside were swiveling bucket seats and a hemispheric instrument panel that glowed like a spaceship. At only $600, I wanted it more than anything in the world, even though I couldn't yet drive it home myself.
Naturally, I had to customize it further. It didn't need more power or speed, so I focused on the interior and electronics. Of course it needed a 2-way radio, and for music a cartridge tape player and a reverb box. The reverb gave an auditorium ambience to the music, but as a side effect it injected a large "sproinggg" sound if you hit a big bump. There was also a minor mishap when I removed the stock radio. Wrestling it out from behind the dash, it shorted out a fuse block and set the wiring on fire. The car was still drivable, but when you stepped on the brake, the horn blew. It was an embarrassing trip to the dealer to get all that repaired.
As other students started adding sound systems to their cars, I had to kick things up a notch: add a bar! Well, sort of. I added a plastic tank in the trunk and ran a hose to a Sears sink spigot mounted on the center console. Turn the faucet, out could come water, soda, whatever I had loaded in the tank. I added a Dixie cup dispenser to the seatback and the decadent ambience was complete.