Certification Commission for Health Information Technology
In 2003, I became Medical Director at HIMSS, the Health Information Management Systems Society, a nonprofit trade and educational association. In this role I organized various committees and events to spread the word about the benefits of electronic medical records. But in 2004, things became more serious: a National Coordinator for Health IT (informallly called the Health IT Czar) was appointed by then-President Bush. The first National Coordinator, David Brailer, MD, PhD, immediately published a strategic plan for speeding up health IT adoption, with a key element: government-approved testing and certification of EHRs (renaming EMRs to EHRs was another thing he did).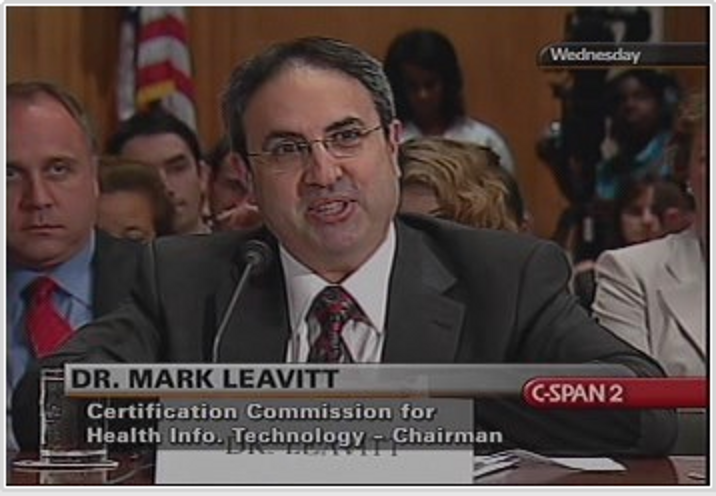 HIMSS and other health IT organizations felt strongly that any such effort should come from the private sector, so we quickly recruited a blue-ribbon panel to demonstrate our readiness, and somehow I was named Chairman. Simultaneously, the Federal government announced a Request for Proposal for an organization to develop standards and processes for testing and certification. We called our panel the Certification Commission for Health Information Technology (with the acronym CCHIT), drafted a proposal, and won a three-year federal contract beginning in 2005. Leading a nonprofit, 501C(3) organization under a federal contract was the complete opposite to presiding over a private-sector for-profit company. Every decision and relationship had to be completely transparent. The work of drafting our standards was done by over 300 volunteer subject matter experts, in a multi-stage process with opportunities for public comment at every step. We held Town Halls at conferences, and Town Calls online, to communicate with all stakeholders many times each year.
Once CCHIT's first Ambulatory EHR certification program was Federally approved in 2006, every medical setting and specialty clamored for an extension to their domain, keeping us very busy and raising our visibility. I provided testimony at Congressional hearings to report on our progress, and appeared on the list of the "Most Powerful Executives in Health Care". Under newly-elected President Obama, legislation was drafted offering $30 billion in incentives to healthcare providers adopting EHRs — providing they were certified. CCHIT had a front-row seat to this legislative process, being experts on certification, but with so much money on the table, the pressures only became more intense, and the weekly cross-country travel (I'd hit the million-mile flyer mark) adversely impacted my health. So I decided to retire in 2010, although I continued to consult for CCHIT until 2014. Soon afterward, with its mission complete, CCHIT wrapped up its work and ceased operations.