A Wireless, Wearable Assist for Assisted Living
In 2015 I connected with Bill Reed and Lydia Lundberg, innovative pioneers in the assisted living industry. At their company, Elite Care, Bill had been searching for technology solutions that could satisfy the conflicting demands of safety vs. autonomy for their residents, but found no suitable commercial products. The staff and residents were already wearing identification badges, so Bill hoped we might develop these into Bluetooth wireless "smart" badges that could enhance residents' safety and comfort, as well as staff efficiency.
Besides being nametags, the badges functioned as emergency call buttons. We experimented with auditory feedback from the call button when pressed — a short audio recording of a loved one reassuring them that help was on the way — but this didn't prove helpful. More successful was the inclusion of accelerometer, gyro, and temperature sensors to measure activity and environment. And finally, the badges could serve as locators. With Bluetooth receiving stations ("hubs") installed throughout the facility, a central server could estimate the location of each badge based on signal strength at each hub. The badges could also act as receivers to detect which other badges were nearby, potentially providing data on social interactions and staff presence with a resident.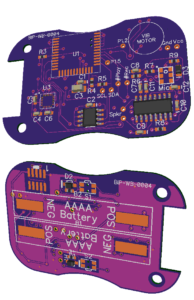 Early prototype PCB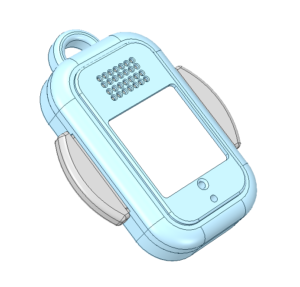 Early prototype case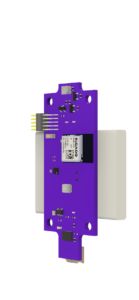 Final prototype PCB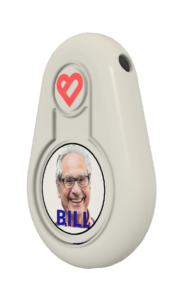 Final prototype case