Wireless, Wearable Tracker for Post-Op Knee Rehabilitation
Over a million joint replacement surgeries are performed annually in the U.S., a number that's expected to explode as my fellow boomers injure or wear out their knees and hips. While the surgery and joint implants have been continually refined, the rehabilitation phase at home hasn't benefited from technology — yet. Orthini, a Portland startup, was formed to address this need. I came on board as a consultant to create a proof-of-concept prototype. Think of it a specialized version of a fitness tracker that measures knee range-of-motion and rehabilitation activity during the critical first few post-operative weeks at home.
Our design goals included light weight, ease of applying/removing, and no restriction of joint movement or visibility of the healing wound site. We also hoped to make it easier to apply a cold pack, and if possible, monitor the use of that as well.
Our brilliant apparel consultant, LaJean Lawson, came up with a lightweight harness that strapped to the thigh and calf, leaving the knee exposed. The electronics are hidden within the "smart buckles" that fasten the harness. This was my first experience designing an enclosure that progressed all the way to injection molding. The electronic design using a Bluetooth module and accelerometer sensors was more straightforward, but sensors to monitor the wearing of the device itself and application of the cold pack required some novel ideas. The US Patent Office agreed, finally issuing a patent in 2021 (3 years is par for that course).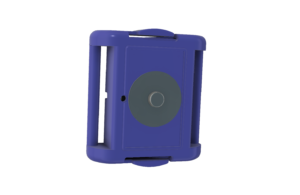 Smart Buckle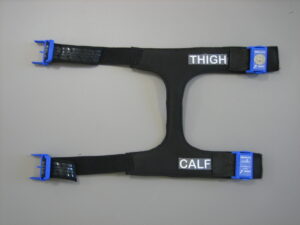 KneeCoach Assembly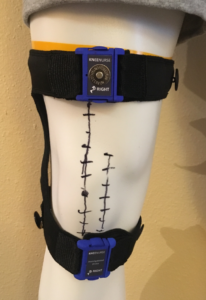 KneeCoach on Manikin Knee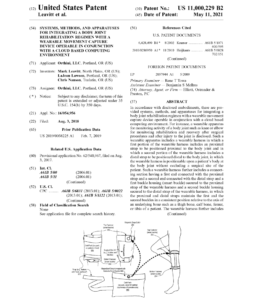 KneeCoach Patent